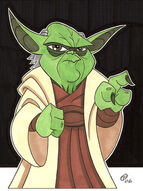 Otis Frampton is a comic book writer & illustrator who has contributed 406 sketch cards to the Star Wars: Episode III Revenge of the Sith trading card collection and created content for StarWars.com, including two Star Wars Kids: Learn To Draw tutorials (Yoda and Salacious Crumb) and an Emperor Palpatine Halloween mask.
Character list of Artist Sketch Cards drawn by Otis Frampton [1]Edit
External links
Edit
Ad blocker interference detected!
Wikia is a free-to-use site that makes money from advertising. We have a modified experience for viewers using ad blockers

Wikia is not accessible if you've made further modifications. Remove the custom ad blocker rule(s) and the page will load as expected.