Otto
Talk

0
103,566pages on
this wiki
Otto
Biographical information
Homeworld
Born
Physical description
Species
Gender
Height
Hair color
Eye color

Brown[4]

Skin color

Fair[5]

Chronological and political information
Era(s)
Affiliation
"I am now the ultimate power in the universe!"
―General Otto
Otto was a male Human from the planet of Coruscant who served in the Imperial Military, the armed forces of Palpatine's Galactic Empire. He took part in the Galactic Civil War, a conflict between the Empire and the Rebel Alliance, with the rank of general. Despite his status, Otto was regarded as largely incompetent, and he would have lost both his career and his life if had not been the intervention of his friend, the admiral Conan Antonio Motti. Saved from the wrath of his superiors, Otto was tasked with commanding an Imperial outpost on the barren planet of Lok. During his tenure on Lok, the general was forced to deal with an intruder who had been sent by the Rebel hero Han Solo to sow discord in the outpost. Dissatisfied with his situation, General Otto later deserted and entered Jabba's demolition games with a stolen AT-ST. The general hoped he could garner enough money in the contest to fulfill his dream of buying a luxury appartment in Cloud City.
Biography
Edit
Early life and career
Edit
"Long live the Emperor!"
―General Otto
A male of the Human species, Otto hailed from Coruscant,[5] a planet that was considered the center of the civilized galaxy and the fountainhead of humanity.[6] He was born in 63 BBY,[2] in the last decades of an era known to the historians as the "Great Peace of the Republic."[7] Otto was already a grown forty-one-year-old man[2] at the start of the Clone Wars, a pan-galactic conflict that cause devastation and death from 22 to 19 BBY.[8]
At the end of the Clone Wars, the Supreme Chancellor Palpatine refused to hand down the emergency powers he had been granted. Instead, Palpatine transformed the Republic into a militaristic and authoritarian Galactic Empire.[9] At some point in the period that followed the establishment of the New Order, Otto embraced a career in the Imperial Military. A bumbling, unsignificant man, the Coruscanti climbed the promotion ladder only thanks to his connections with Admiral Conan Antonio Motti,[10] who had not hesitated to pad his own record himself.[11] Eventually, Otto attained the rank of army general.[10]
Put on the sidelines
Edit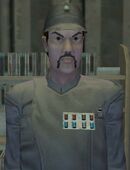 "Go disrupt the Imperial base here on Lok. It's commanded by a man named General Otto. I don't think much of him personally. Show him that being on Lok is not an easy assignment."
―Han Solo
Though loyal to the point of fanaticism, Otto lost many battles during the early stages of the Galactic Civil War, another global conflict between the Empire and the Rebel Alliance.[4] He was also rumored to have been a drug addict.[12] Otto's career may have been damaged by his major blunders had it not been for the another intervention of the Admiral Motti. The admiral was able to intervene on his friend's behalf and saved him from the wrath of Darth Vader, the Emperor's second in command. Thanks to the machinations of Motti, Otto was shipped to the planet of Lok, a desolate world in the Outer Rim Territories, where he was tasked with manning a massive Imperial outpost.[4]
At some point between 0 and 3 ABY,[13] the Rebel hero Han Solo sent one of his agents to Lok so they would cause mayhem in the Imperial outpost and show General Otto that being assigned on a backwater planet was not going to be easy. Although Solo held no personal grudge against the Coruscanti general, he saw fit to harass any Imperial when the occasion arose. Otto faced the Rebel agent that had come to torment him, but was beaten during the showdown. However, the general successfully escaped his opponent before being killed. Ultimately, the Rebel intruder returned to Solo to claim their reward, leaving Otto with combat injuries and hurt feelings.[4]
Entering Jabba's games
Edit
"I'm booking passage to Bespin!"
―General Otto
Such bad encounters and the sad spectacle of Lok's barren landscape made Otto dwell on his dream of retiring to a luxury apartment on Cloud City, a haven of airy platforms, spires and towers floating in the atmosphere of Bespin. Eventually, in pursuit of that dream, Otto stole a transport and deserted the Empire, taking with him an AT-ST—a "chicken-legged" bipedal walker. Wanted by Imperial forces for desertion, Otto travelled to the Hutt-controlled planet Tatooine. Once there, he entered Jabba the Hutt's demolition contests, hoping to gather the riches he needed to achieve his dream. On the contest field, Otto confronted various worthy adversaries such as the bounty hunters Boba Fett and Aurra Sing, the Human smuggler named Wade Vox or the podracer Pugwis.[5]
The records of whether Otto succeeded in this dream or not seem to have been lost along with Jabba's criminal empire. All that remained were conflicting rumors, suggesting that the General either did escape to Cloud City or was alternatively turned over to the Empire by one of his fellow contestants, Boba Fett, and ultimately left at Darth Vader's mercy.[5]
Personality and traits
Edit
"I will not be stopped! Mmuahahaha!"
―Gen. Otto

When he was still manning the Lok outpost, General Otto sported a dark brown hair and a horseshoe-shaped mustache. He simply wore the Empire's standard uniform, which consisted of a double-breasted grey tunic with matching trousers, black leather belt and boots black, and a hat. On the left side of the upper chest, he sported a single imperial code cylinder and the insignia of an army general—made of four red squares on top of four blue squares.[4] As an officer, Otto was thought to lack dignity in his manners and appearance,[12] and even the Rebel hero Han Solo thought of him as unimportant.[4]
By the time of Jabba's demolition derby, the general looked very different. He had gained excessive weight, his hair had gone entirely white, and he had grown a full beard with two points. When taking part in the contests, he wore a garish version of an Imperial Army trooper dress uniform with red pants, a golden plastron, a blue cape and a wide array of medals and festoons. He also wore a fancy rank plaque made of twelve golden squares.[5]
In spite of his grandfatherly looks and fancy uniform, Otto was still a dangerous individual. As a derby fighter, he suffered delusions of grandeur and a misplaced sense of superiority that fuelled his sense of pugnacity.[5] He was convinced that he had become the most powerful being in the Known Universe[14] and that nothing or no one could stop him.[5] Among his many flaws, if rumors about him were true, the general was addicted to "spice," a catchall term for a wide variety of mind-altering drugs.[12] In fact, Otto would sometimes threaten his defeated opponents with a transfer to the Mines of Kessel,[5] an Imperial camp[15] in which slaves were forced to collect the spice from the webs of energy spiders.[16] Despite being a deserter and a self-obsessed man, General Otto maintained a certain degree of loyalty toward the Empire, as he would sometimes enter the demolition contests yelling "Long live the Emperor!"[5]
Skills and abilities
Edit
"You're headed to the spice mines, scum!"
―Gen. Otto
As part of his Imperial officer training, General Otto was a master of ranged combat using blaster carbines. He had also learned the rudiments of Teräs Käsi, a weaponless martial art that originated on the planet Bunduki.[17] He was also capable of piloting his modified AT-ST all by himself, while manning that vehicle normally required two crewmen, a pilot and a gunner.[18]
Behind the scenes
Edit
General Otto was featured as a playable character in the 2000 video game Star Wars: Demolition, where he was voiced by Tom Kane. Depending on the player's success, Otto could either win the demolition tournament, which led him to fulfill his dream, or lose it, which led him to fall in the clutches of Darth Vader.[5] The general's canonical fate has not been established as of 2013.
General Otto also appeared in the now defunct Star Wars-themed MMORPG Star Wars Galaxies. Originally, Otto in Star Wars Galaxies did not appear like he did in Star Wars: Demolition.[4] However, the events depicted in Galaxies occurred between 0 and 3 ABY, a few years at best before Jabba's demolition games.[13] Otto's appearance in Galaxies was later changed by the developers so he would wear a mustache, but he still looked younger, taller and thinner than his Demolition incarnation.[4] In the 2000 video game, Otto was shown to be overweight and a head shorter than two stormtroopers,[4] all of which measured 1.83 meters,[19] while his Galaxies incarnation was of average height with a smaller waistline.[4]
In Star Wars Galaxies, Rebel players could be tasked by Han Solo with fighting and killing Otto. In actuality, the general would not die. Once the player got his health to 10%, Otto would yell "Aaaah! Get away from me!!" and run away by despawning.[4]
Appearances
Edit
Notes and references
Edit
↑ 1.0 1.1 1.2 Star Wars: Demolition (game manual)
↑ 2.0 2.1 2.2 In the game manual for Star Wars: Demolition, General Otto was referred to as a 67-year-old man. The game itself had both Lando Calrissian (as Tamtel Skreej) and Leia Organa (as Boushh) in Jabba's palace, which places its events shortly before Star Wars Episode VI: Return of the Jedi. According to The Essential Reader's Companion, the events of Episode VI happened in the year 4 ABY.
↑ In a cutscene from Star Wars: Demolition, Otto was shown to be smaller than two stormtroopers. According to their entry in StarWars.com's official Encyclopedia, stormtroopers met a standard height of 1.83 meters.
↑ 4.00 4.01 4.02 4.03 4.04 4.05 4.06 4.07 4.08 4.09 4.10 4.11 4.12 4.13  Star Wars Galaxies: An Empire Divided
↑ The Complete Star Wars Encyclopedia, Vol. I, p. 363 ("Great Peace of the Republic")
↑ 10.0 10.1 The Complete Star Wars Encyclopedia, Vol. II, p. 430 ("Otto, General")
↑ 12.0 12.1 12.2 Star Wars Galaxies Trading Card Game – Galactic Hunters (Card: General Otto)
↑ 13.0 13.1 The video game Star Wars Galaxies featured the character named Serji-X Arrogantus, who died 0 ABY during the events of Star Wars 10: Behemoth from the World Below. However, other instances in the game implied that the Battle of Yavin occurred "three years ago," placing the timeline around 3 ABY. Therefore, it is assumed that the game took place sometime between 0 BBY and 3 ABY.
↑  Stormtroopers in the Encyclopedia
External links
Edit