"When will you fools learn? No one escapes from Commander Fox."
―Commander Fox
"Out Foxed" is a short story written by Rob Valois. It details the pursuit of a bounty hunter, hired by the Separatists to kidnap Senator Shayla Paige-Tarkin, through the streets of Coruscant. It is written in the form of a first-person narrative, much like I, Jedi and several other short stories.
Plot summary
Edit
After a bounty is placed on every senator of the Republic Senate by Count Dooku, the Coruscant Guard is on the alert. Clone Commander CC-1010, nicknamed "Fox", pursues a Trandoshan bounty hunter, who has come to Coruscant in an attempt to kidnap Senator Shayla Paige-Tarkin, through the streets of the capital world, intent on bringing him in alive.
Appearances
Edit
Characters
Locations
Organizations and titles
Sentient species
Vehicles and vessels
Weapons and technology
Miscellanea
Continuity
Edit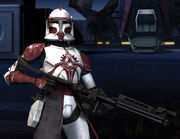 "Out Foxed" is offered as a free download from Target
Notes and references
Edit
Ad blocker interference detected!
Wikia is a free-to-use site that makes money from advertising. We have a modified experience for viewers using ad blockers

Wikia is not accessible if you've made further modifications. Remove the custom ad blocker rule(s) and the page will load as expected.