"Out of Darkness" is the seventh episode of the first season of the animated television series Star Wars Rebels. It is the seventh episode of the series overall.[2]
The episode was written by Kevin Hopps and directed by Steward Lee. It was released on WatchDisneyXD.com on November 3, 2014 and made its television debut on November 10.
The episode centers around Hera Syndulla and Sabine Wren undertaking a mission to an old Grand Army of the Republic asteroid base, where they intend to meet an informant named "Fulcrum"—who Syndulla has been in frequent contact with for information about the Galactic Empire—and to pick up crates of supplies. Wren, who did not know about "Fulcrum," feels that she is not trusted. After surviving against deadly fyrnocks on the base, Wren is able to overcome those trust issues, with Syndulla asking her to have faith in their growing rebellion.
Official description
Edit
Their relationship strained over trust issues, Hera and Sabine team up for a supply run but find an unexpected danger waiting.
Plot summary
Edit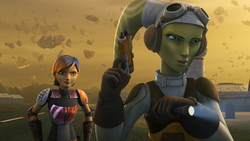 Sabine Wren learns that Hera Syndulla and Kanan Jarrus have been in frequent contact with an individual known as "Fulcrum," an informant who has been feeding the rebels information about Imperial targets. Feeling like she is not trusted, Wren demands to join a mission where Syndulla will meet with "Fulcrum" and pick up a crate of supplies. The two fly the Phantom to Fort Anaxes, an asteroid base once used by the Grand Army of the Republic during the Clone Wars. Although "Fulcrum" is not there, the two rebels are able to pick up the crates.
Upon trying to leave the base, Syndulla and Wren realize that there is fuel leak, stemming from unrepaired damage that the Phantom suffered during a skirmish on Lothal. To make matters worse, the darkening skies of the base—with the sun being blocked by a massive asteroid flying overhead—lead a group of deadly creatures known as fyrnocks outside of the military base itself and towards the two rebels. Using rhydonium as an explosive to kill the creatures, Wren and Syndulla hold them off before the Ghost is able to rescue them and escape the base. Once back on board, Syndulla asks Wren to have faith in their rebellion and that Syndulla trusts her, which Wren knows that she does.
Appearances
Edit
Bibliography
Edit
Notes and references
Edit
Ad blocker interference detected!
Wikia is a free-to-use site that makes money from advertising. We have a modified experience for viewers using ad blockers

Wikia is not accessible if you've made further modifications. Remove the custom ad blocker rule(s) and the page will load as expected.