Outpost 327
Talk

2
107,340pages on
this wiki
Outpost 327
Production information
Manufacturer
Product line
Model
Class
Technical specifications
Length

2,100 meters

Location information
Region
System
Usage
Role(s)

Space Colony

Era(s)
Affiliation
Outpost 327 was a Golan Space Colony 2-type facility located in the Zhar system, it appeared to function as a cargo depot of sorts and was usually surrounded by various types of freighters and cargo containers, as well as provide a docking facility for shuttles and transports. It was heavily defended, at one point in 4 ABY its defenses included a squadron of TIE/LN starfighters, two squadrons of TIE/In interceptors and a squadron of TIE/sa bombers, as well as the Imperial II-class Star Destroyer Judicator. However, it was unclear whether these were the actual station's defenses, or Judicator's own complement of starfighters.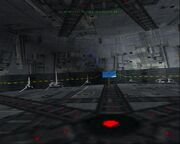 At this time, the Lambda-class shuttles Tydirium, Illudium, Xiridium, Viridium, Uranium, Mercurium, Iridium and Deuterium were also docked on the outpost, until the former was stolen by Rebel Alliance pilot Ace Azzameen.
Behind the scenes
Edit
The names of the shuttles found inside the station are real-life or fictional chemical elements and all create a comical effect rhyming with "Tydirium": uranium (U, 92), iridium (Ir, 77), deuterium (isotope of H, 1) are real-life, while "Mercurium" can be interpreted as a reference to the element mercury (Hg, 80).
"Illudium" is an obscure fictional element mentioned in the Marvin the Martian cartoons in the form of the "Illudium Q-36 Explosive Space Modulator". Similarly, "viridium" is obscurely mentioned in Star Trek VI: The Undiscovered Country, where a "viridium patch" is used to rescue Captain James T. Kirk.
Years after X-Wing Alliance was released, Kyle Katarn's Tale recently mentioned the fictional ore tydirium, establilshing that shuttle Tydirium also shares a name with an element.
Appearances
Edit