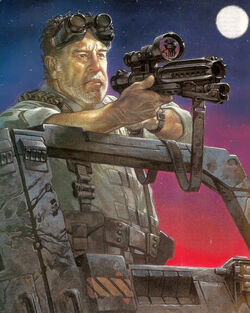 PD 4786 was the designation of an Imperial Viper probe droid that was deployed over Ruusan in 5 ABY by Jerec. Colonist Grif Grawley destroyed the droid by remotely crashing his airspeeder into it. Grawley retrieved the probot's ID plate and brought it to the Smuggler's Rest tapcafe in an attempt to warn Fort Nowhere of the possibility of an impending Imperial attack.
Appearances
Edit
Ad blocker interference detected!
Wikia is a free-to-use site that makes money from advertising. We have a modified experience for viewers using ad blockers

Wikia is not accessible if you've made further modifications. Remove the custom ad blocker rule(s) and the page will load as expected.