"Is there anything else you desire? A new ship?"
"Your choice of weapons is lousy, Pablo. Where can I get some quality blasters?"
"I wouldn't be too picky, being on the run like you obviously are."
―Pablo and Cad Bane
Pablo was a male Rodian arms dealer who was based in his pawnshop on Nal Hutta, alongside with his Twi'lek helper during the Clone Wars between the Galactic Republic and the Confederacy of Independent Systems. When Cad Bane, Moralo Eval, and Obi-Wan Kenobi (disguised as Rako Hardeen) were on the run, they obtained some items from Pablo's shop. When Pablo tried to sell more items to the trio, Bane responded by stating that his supply of blasters were insufficient. When Pablo spoke of their current situation, Bane held his toothpick near Pablo's throat and warned him to keep his mouth shut.
Appearances
Edit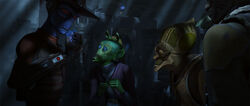 Ad blocker interference detected!
Wikia is a free-to-use site that makes money from advertising. We have a modified experience for viewers using ad blockers

Wikia is not accessible if you've made further modifications. Remove the custom ad blocker rule(s) and the page will load as expected.