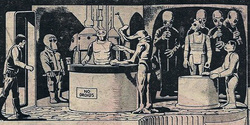 "It's certainly no place for respectable droids like us R2!"
Palitoy's Cantina was a cantina that did not serve droids. It employed an Aqualish bartender and had a Bith music band. At one point, C-3PO and R2-D2 had to wait outside while their Human companion entered the cantina.[1]
Appearances
Edit
Notes and references
Edit
Ad blocker interference detected!
Wikia is a free-to-use site that makes money from advertising. We have a modified experience for viewers using ad blockers

Wikia is not accessible if you've made further modifications. Remove the custom ad blocker rule(s) and the page will load as expected.