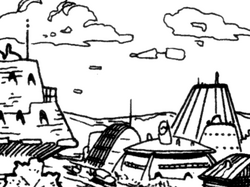 Pandath was the capital of Taanab. A spaceport, Lando Calrissian departed from this city to engage Norulac pirates in the Battle of Taanab. A Jedi chapter house was established in the city to house initiates in the Agricultural Corps.
On 35:8:16, the Imperial HoloVision node based in the city reported the crash of the supply ship Ambitious at the B'Knos mining colony.[1]
Behind the scenes
Edit
Pandath was misspelled Pendath in The Truce at Bakura Sourcebook.
Appearances
Edit
Notes and references
Edit
Ad blocker interference detected!
Wikia is a free-to-use site that makes money from advertising. We have a modified experience for viewers using ad blockers

Wikia is not accessible if you've made further modifications. Remove the custom ad blocker rule(s) and the page will load as expected.