Parrah revolt
Talk

0
107,711pages on
this wiki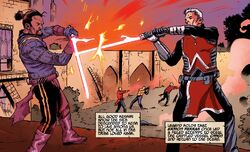 The Parrah revolt was instigated by the Lost Tribe rebel Ermon Parrah, after the disperding of the Korsin family. Parrah thought that the remaining on Kesh was legated to the Korsins so he and several dissidents attempted to steal the crippled starship Omen so that they could leave Kesh and return to the wider galaxy. However, they were defeated by the Lost Tribe leadership who enslaved most of the surviving rebels. Meanwhile, Parrah and his family were reduced to the status of paupers and were ordered to spin a cord that would reach the stars.
For millennia, Parrah's descendants worked as tailors in the port town of Eorm. Due to their occupation, they became known as the Spinner family. Due to the strong stigma attached to their punishment, Parrah's descendants adhered to this ancient edict even during the anarchic Time of the Rot. Following the Hilts Restoration, the Sith anarchist Parlan Spinner became the first in his family to rebel against this edict. He became the leader of a gang of outlaws known as "Spinner's Web."
Spinner's actions eventually attracted the attention of the Sith authorities and he was apprehended in 2974 BBY. However, the ruling Grand Lord Varner Hilts decided to give Spinner a second chance working as a crew aboard the sailing ship Southern Star. Spinner would set in motion a chain of events that led to the return and defeat of the ancient Sith Lord Remulus Dreypa. Due to his role in the Siege of Tahv, Spinner became regarded by the Tribe as a hero and joined the Tribe as a Grand Lord's Hand. It is unknown if other members of the Spinner family had their social status improved.
Appearances
Edit