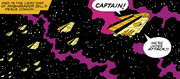 Circa 15 BBY,[1] Zell, an ambassador from the planet Majoor, led a peace mission to the planet Armath.[2] However, the mission was curtailed when Zell's own son, Llez, freed the pirate Reddjak from the Majoor penitentiary[3] out of a romantic notion of piracy;[1] upon learning that his benefactor was the son of the ambassador, Reddjak decided to ambush Zell's fleet of starships.[4] Nevertheless, the timely intervention of the droids C-3PO and R2-D2, hired by Zell to watch Llez in his absense, along with Zell's own confrontation of the pirates, led to Reddjak's recapture and allowed the mission to Armath to continue.[5]
Appearances
Edit
Notes and references
Edit
Ad blocker interference detected!
Wikia is a free-to-use site that makes money from advertising. We have a modified experience for viewers using ad blockers

Wikia is not accessible if you've made further modifications. Remove the custom ad blocker rule(s) and the page will load as expected.