Police officer
Talk

0
103,514pages on
this wiki
Police officer also known as peace officers, peacekeepers, security officers or the slang term cops, were members of galactic society who served in a professional law enforcement agency and enforced the law of the local, planetary, or galactic governments and organizations they served.
Organization
Edit
See also: Police rank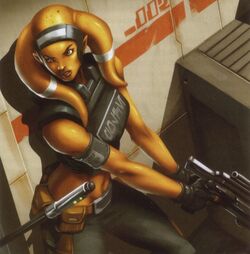 Most police officers reported to some local, planetary, or galactic government. Police officers were employed to enforce the laws as established by those governments and investigate cases where law had been broken. Depending upon the government or organization they were employed by, police officers had various degrees of authority and jurisdiction. Examples included members of the Republic Security Force who had jurisdiction throughout the Galactic Republic whereas Sector Rangers were assigned to given sectors. There were also special cases such as the Coruscant Security Force which was a planetary police force yet had the authority to take over cases anywhere in the galaxy that were related to ongoing investigations on Coruscant. Some law enforcement agencies were given specific duties regardless of location. Republic Domestic Security was in charge of protecting vital secrets including financial information of the Republic towards the end of the Clone Wars. Some law enforcement agencies served as both a police force and military force for their planets. An example of this was the Royal Naboo Security Forces.
Depending on the responsibilities and the type of police agency, officers had various titles and ranks. Several included military style ranks such as sergeant, lieutenant, and captain. However there were also others such as detective, constable, Chief of Security, deputy, Ranger, and agent.
Slang terms for police officers included the terms "Cops", "Seccers", and "Boys in Blue".
Appearances
Edit
External links
Edit
police officer on Wikipedia