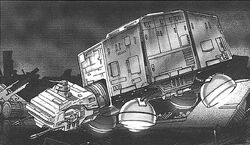 The Peeve was the the personal transport vehicle of the Squib crime lord, Slythor. Formerly an AT-AT, salvaged from the ruins of Paran, it was heavily modified and given the designation, "AT-PV" or "All Terrain Pleasure Vehicle." One of the major modifications was the replacement of its damaged legs with repulsor engines.
Appearances
Edit
Ad blocker interference detected!
Wikia is a free-to-use site that makes money from advertising. We have a modified experience for viewers using ad blockers

Wikia is not accessible if you've made further modifications. Remove the custom ad blocker rule(s) and the page will load as expected.