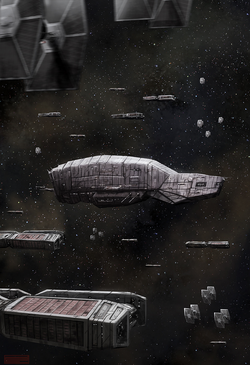 The Perlemian Haul was the codename of a rumored Imperial convoy operating along the Perlemian Trade Route. The convoy included Temple-class heavy freighters and two Star Galleon-class frigates. Shortly after the Battle of Yavin, the Rebel Alliance confirmed its existence and sent a team of operatives to secure its mysterious cargo. They infiltrated freighter M226.
Behind the scenes
Edit
The convoy appears in the roleplaying game adventure Perlemian Haul, included with Fantasy Flight Games' 2014 Star Wars: Age of Rebellion Core Rulebook.
Appearances
Edit
Ad blocker interference detected!
Wikia is a free-to-use site that makes money from advertising. We have a modified experience for viewers using ad blockers

Wikia is not accessible if you've made further modifications. Remove the custom ad blocker rule(s) and the page will load as expected.