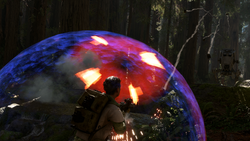 A personal energy shield was a modified droideka deflector shield developed by the Galactic Empire to minimize ground casualties. The energy field projected from the device protected its user from blaster bolts, however, it provided no protection against kinetic weapons such as grenades and slugthrowers. Although the personal shield was developed by the Empire, the Alliance to Restore the Republic saw the technology useful to their cause and also began to utilize it throughout the Galactic Civil War.[1]
Appearances
Edit
Notes and references
Edit
Ad blocker interference detected!
Wikia is a free-to-use site that makes money from advertising. We have a modified experience for viewers using ad blockers

Wikia is not accessible if you've made further modifications. Remove the custom ad blocker rule(s) and the page will load as expected.