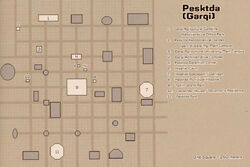 Pesktda was the capital city of Garqi, a graceful city of broad avenues lined with bimiza trees and dotted with open-air plazas. It was the only consolidated population center on the planet and contained one-quarter of the world population. It contained the Garqi Agricultural University, the Pesktda Xenobotanical Garden, and the academic Wlesc neighborhood. The Bimiza Hill district bordered Pesktda Port and featured stylish tapcaf houses.
Appearances
Edit
Ad blocker interference detected!
Wikia is a free-to-use site that makes money from advertising. We have a modified experience for viewers using ad blockers

Wikia is not accessible if you've made further modifications. Remove the custom ad blocker rule(s) and the page will load as expected.