The X-Wing: Phantom II Expansion Pack—also called the Phantom II Expansion Pack—is a supplement to the tactical ship-to-ship combat game, X-Wing Miniatures Game, published by Fantasy Flight Games. The expansion features a detailed miniature of the Phantom II. It as well as the rest of Wave XII were announced on August 21, 2017,[2] and released on December 8 of the same year.[1]
Publisher's Summary
Edit
The Phantom II is a Sheathipede-class transport shuttle that the Spectres recovered from a Clone Wars-era military base and modified with weapons and a custom docking system. It makes its X-Wing™ debut in the Phantom II Expansion Pack as an attack-ready vessel that comes with four ship cards and six upgrades. These include new astromechs, crew upgrades, and Title upgrades that incorporate more of Star Wars Rebels in your space battles and add depth to the shuttle's ability to perform the coordinate action.
The Phantom II Expansion Pack contains a miniature of the Phantom II, plus two maneuver dials and action tokens, as well as pilot and upgrade cards.
Ship components
Edit
Phantom II
Plastic base (2)
Ship token (4)
Maneuver dial (2)
Critical Hit token
Focus token (2)
Evade token
Shield token
ID token (43-44)
Target Lock token
Stress token
Cloak token
Pilot Cards
Edit
Upgrade Cards
Edit
Reference Cards
Edit
Notes and references
Edit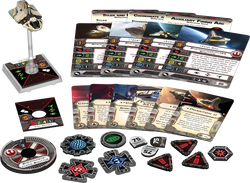 ↑ 1.0 1.1  Raw, Untamed Power - X-Wing™ Waves XII and XIII Are Now Available on Fantasy Flight Games' official website
External links
Edit
Ad blocker interference detected!
Wikia is a free-to-use site that makes money from advertising. We have a modified experience for viewers using ad blockers

Wikia is not accessible if you've made further modifications. Remove the custom ad blocker rule(s) and the page will load as expected.