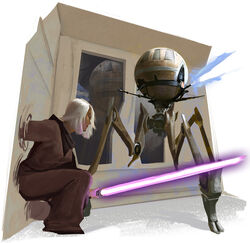 Phase was a Force power that enabled the user to pass through matter, such as walls and doors.
An'ya Kuro was a known user of this ability. Bazel Warv could also use this ability. After Bazel used it, Raynar Thul said that Killiks developed the technique while they created the Maw. Leia Organa Solo suggested that it was Celestials that developed the ability since the Killiks absorbed the memories of any being who became Joined to one of their nests.
Appearances
Edit
Ad blocker interference detected!
Wikia is a free-to-use site that makes money from advertising. We have a modified experience for viewers using ad blockers

Wikia is not accessible if you've made further modifications. Remove the custom ad blocker rule(s) and the page will load as expected.