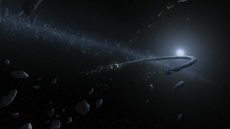 Phelbos was a celestial body in the galaxy surrounded by several rings[1] of asteroids.[2] Vizsla Keep 09, a military installation constructed and utilized by the[1] Mandalorian terrorist group[3] Death Watch, was hidden in the rings of Phelbos during the Clone Wars.[1]
Behind the scenes
Edit
Phelbos was first mentioned in the StarWars.com Databank entry for Vizsla Keep 09, which went up[1] after the Keep appeared in[4] the third episode of the animated television series Star Wars Rebels' third season, "The Holocrons of Fate,"[5] which aired on October 1, 2016, on Disney XD.[6] While Phelbos itself has yet to be shown, its rings appeared in the third issue of the comic series Star Wars: Darth Maul—Son of Dathomir,[2] released on July 16, 2014,[7] as well as "The Holocrons of Fate."[4]
Notes and references
Edit
↑ 1.0 1.1 1.2 1.3  Vizsla Keep 09 in the Databank (backup link)
↑ Star Wars Rebels : The Holocrons of Fate. Screener. Archived from the original on January 12, 2017. Retrieved on January 12, 2017.
Ad blocker interference detected!
Wikia is a free-to-use site that makes money from advertising. We have a modified experience for viewers using ad blockers

Wikia is not accessible if you've made further modifications. Remove the custom ad blocker rule(s) and the page will load as expected.