Phineas and Ferb: Star Wars is a one-hour special episode of the Disney Animation television series Phineas and Ferb that aired in summer 2014 on Disney Channel and Disney XD. The Star Wars-themed crossover was first announced at the annual San Diego Comic-Con International on July 19, 2013.
Plot summary
Episode IVa
MAY THE FERB BE WITH YOU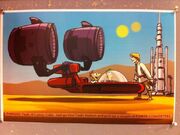 The episode's story begins a long time ago, in a galaxy far, far away -- in summer. Step-brothers Phineas Flynn and Ferb Fletcher are living happily on Tatooine, just one moisture farm over from Luke Skywalker. They love simply hanging out, creating new adventures under the twin suns, and creating new inventions, however, they find themselves thrust into a global rebellion when the plans for blowing up the Death Star accidentally fall into their hands.[1]
Now that fate has suddenly pulled them into the fight for freedom, they must go in search of a pilot who can take them to the Rebels so they can hand over the plans. Complicating matters, Candace -- Phineas's long lost sister -- has a Stormtrooper-like intent on "busting rebels" who chase Phineas and Ferb across the galaxy in hopes of retrieving the Death Star plans.[1]
Meanwhile, back on the Death Star, Dr. Darthenshmirtz, a low level Darth, has created a Force-powered "Sith-inator" that he plans to use against the Rebel Alliance. Agent P, working undercover for the Rebellion, is dispatched to stop him, but quickly gets trapped in carbonite. Then, things take a startling turn when Ferb is accidentally hit by the full blast of Dr. Darthenshmirtz's "inator" and becomes...an evil Sith.[1]
After Ferb was turn into an evil Sith, Candace was assigned to guard a communication post, then Phineas and Isabella walk out of the elevator, they saw Candace and Isabella shoot the communication post and they ran. Meanwhile, Darthenshmirtz is collecting some Darth Vader's trash, to function the Sith-Inator.
Meanwhile, Perry's carbonite trap is heating up and he set free. After Darthenshmirtz collecting some trash, the doors fixed, and he finds Ferb. Norm 3-PO (parody version of C-3PO) walk to the box and Perry fires a blaster and Norm is shut down. And begins to fight Darthenshmirtz.
Candace continues to chase Isabella and Phineas but slips on some disposal liquid left from the garbage chute and hangs from a ledge. Phineas decides to save her, much to the annoyance of Isabella. Phineas catches Candace, but she is confused as to why, since she always believed that the Rebel Alliance were the enemies. Buford interrupts them with a missed shot and accidentally shoots a Stormtrooper, sending the man falling right through the bottom of the Death Star. Buford apologizes, but the man tells him not to worry about it, as he plans to slide down until he catches on to a radio antenna, Too late, it dawns on him he is thinking of someplace else, and falls into space.
Phineas and Isabella catch up with and see R2-D2 and the others leave on the Falcon. Isabella tells they should leave immediately or they will lose the Falcon, but Phineas won't leave without Ferb. Phineas decides to trust Isabella to deliver the disc to R2-D2 despite Isabella warning him that she's not coming back. As Phineas explores the station in search of Ferb, he sees a room dousing with a red light. The red light is emitting from a modified Sith-inator. Phineas discovers it was built by Ferb, who is now wearing a Sith uniform and has Darth Maul-esque face makeup on.
Merchandise
Walt Disney Records released a soundtrack album containing five songs[3]; and a radio drama version of the episode in German language.[4]
Games
This special episode inspired two online games, Agent P: Rebel Spy[5] and Phineas and Ferb Star Wars - Droid Masters[6]. Both playable for free on Disney web sites.
Behind the scenes
Dan Povenmire, one of the show's creators, first hinted at the crossover during an interview with TVGuide.com about the show's upcoming crossover with Marvel Comics, as he indicated that he had the Star Wars-themed episode in mind since Lucasfilm Ltd.'s acquisition by Disney in 2012. [7] Robert Hughes confirmed that there would be at least five songs in the special. [8]
Adam Savage and Jamie Hyneman from the television show MythBusters (and ex-ILM employees) have voice cameos in this special episode.
Credits
Appearances
Notes and references
External links