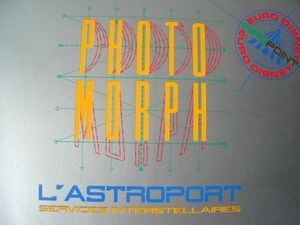 Photomorph was an electronic entertainment device that took a photo of a user's face, then allowed them to distort the image in amusing ways. Several Photomorph booths were located in Astroport Interstellar Services at a Star Tours spaceport.
Behind the scenes
Edit
Real Photomorph booths were found at the Astroport Interstellar Services arcade area, located after the exit of the original Star Tours ride at Disneyland Paris from 1993 to 2005.
Appearances
Edit
External links
Edit
Ad blocker interference detected!
Wikia is a free-to-use site that makes money from advertising. We have a modified experience for viewers using ad blockers

Wikia is not accessible if you've made further modifications. Remove the custom ad blocker rule(s) and the page will load as expected.