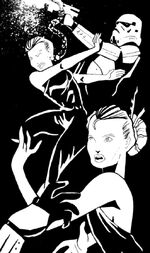 "The Pike sisters. Genetic twins, not clones. The one on the right is Zan, the other is Zu. Zan has green eyes, Zu has one green and one blue eye, the only noticeable difference. They are masters of teräs käsi, the Bunduki art called 'steel hands.' Twenty-six standard years old, no political affiliations, no criminal records in any of the major systems, and, as far as we are able to determine, completely amoral."
―Guri
The Pike Sisters were a pair of twin female Epicanthix composed of Zan Pike and Zu Pike.
Appearances
Edit
Ad blocker interference detected!
Wikia is a free-to-use site that makes money from advertising. We have a modified experience for viewers using ad blockers

Wikia is not accessible if you've made further modifications. Remove the custom ad blocker rule(s) and the page will load as expected.