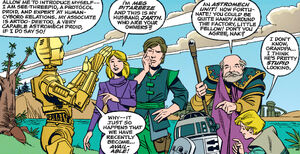 The Pitareeze family was a family from Kalarba that owned and operated Kalarba Safari.[1]
When C-3PO and R2-D2 escaped from IG-88B's stolen ship via a lifepod, they landed in a lake next to the family, which was eating a picnic at the time. The droids introduced themselves and offered to help the family at their factory.[2]
Family members
Edit
Family tree
Edit
Jarth Pitareeze--+--Meg Pitareeze
                 |
           Nak Pitareeze

Behind the scenes
Edit
It is unknown whether the grandfather in Star Wars: Droids Special was the father of Jarth or Meg. Nak only identifies him as "Baron" and "Grandfather."
Appearances
Edit
Notes and references
Edit
Ad blocker interference detected!
Wikia is a free-to-use site that makes money from advertising. We have a modified experience for viewers using ad blockers

Wikia is not accessible if you've made further modifications. Remove the custom ad blocker rule(s) and the page will load as expected.