Ad blocker interference detected!
Wikia is a free-to-use site that makes money from advertising. We have a modified experience for viewers using ad blockers

Wikia is not accessible if you've made further modifications. Remove the custom ad blocker rule(s) and the page will load as expected.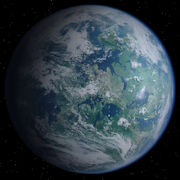 A planet, often called a world, was a celestial body that was in orbit around a star.[1] Planets often had smaller bodies called moons that could be in orbit around the planet.[2] Many planets were habitable, meaning they were suitable for sentient beings to live on.[3] There were three known types of planets: terrestrial planets,[4] aquatic planets[5] and gas giants. Although gas giants were generally uninhabitable, floating constructs such as Cloud City could be built if the planet had a habitable layer.[3] A group of planets, moons,[2] and asteroids orbiting around a star were collectively called a star system.[6] The galaxy was home to thousands of star systems.[7] Although planets usually orbited only one sun, some, such as Tatooine[1] and Gatalenta, were located in systems that orbited multiple.[8] Certain planets were strong with the Force, such as Dathomir.[9]
"Homeworld" was a term used to describe the original home of a species,[10] organization,[11] or person.[12] For example, Ryloth was the homeworld of the Twi'lek species,[13] and the human species were believed to have originated on the planet Coruscant.[14]
It was possible to destroy a planet, although it would require a massive superweapon, such as a Death Star.[4] It was also possible to turn a planet itself into a superweapon, as in the case of the First Order's Starkiller Base,[15] which was capable of destroying entire star systems, such as the ill-fated Hosnian system.[16]
Appearances
Edit
Notes and references
Edit
↑  Asteroid Field in the Databank