Ploovo's Protocol Team was an unofficial criminal group that worked for crimelord Ploovo Two-For-One.
The Protocol Team was a five-person group that specialized in obtaining money owed to Ploovo. Due to Ploovo's loanshark activities, he usually found an amount of people delaying in the payments; in those cases, Ploovo sent the Protocol Team to collect the forgotten payments.
The Protocol Team was known to use violence and the threat of violence to obtain the money. For unclear reasons, the Protocol Team was considered a threat by the Rebel Alliance.
The team was an efficient mix of aliens and droids. The members were: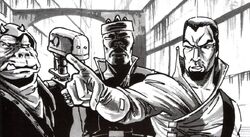 Ad blocker interference detected!
Wikia is a free-to-use site that makes money from advertising. We have a modified experience for viewers using ad blockers

Wikia is not accessible if you've made further modifications. Remove the custom ad blocker rule(s) and the page will load as expected.