Plop Dribble's was a spaceport restaurant on Stobar, which was owned by Loubo. Marwigo and Sassi were waitresses there.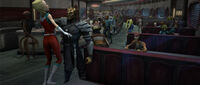 Savage Opress stopped at Plop Dribble's on his quest to find his brother. When one of the waitresses, Marwigo, had difficulty in taking the mute Opress' order, she passed on the task to her fellow waitress, Sassi. However, when Sassi stopped to admire the talisman he was wearing and reached for it, Opress choked her, nearly killing her. After he attracted the attention of other staff and patrons through his actions, he promptly fled and escaped before the authorities arrived. Following Opress' escape, Anakin Skywalker and Ahsoka Tano also coincidentally stopped to dine at the establishment, but not before attempting to investigate the assault on Sassi.
Appearances
Edit
Ad blocker interference detected!
Wikia is a free-to-use site that makes money from advertising. We have a modified experience for viewers using ad blockers

Wikia is not accessible if you've made further modifications. Remove the custom ad blocker rule(s) and the page will load as expected.