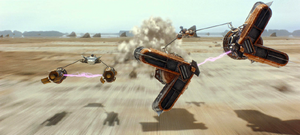 "They have podracing on Malastare. Very fast, very dangerous."
―Qui-Gon Jinn
Podracing was a dangerous racing sport on planets such as Malastare, Theron, and Tatooine. Racers could perform multiple laps on a particular race track, moving at dangerous and, at times, deadly speeds. The races were performed using craft known as Podracers or pods, which were small, one-man craft propelled by large engines.[1] Races could then be projected in entertainment establishments throughout the galaxy.[2]
Podracing was a sport generally partaken in by aliens. Due to that fact, the slave Anakin Skywalker believed himself to be the only human capable of podracing. In 32 BBY, he was the only member of the species who participated in those races around the Mos Espa region.[1]
During the Trade Federation invasion of Naboo, Anakin Skywalker won the Boonta Eve Classic on Tatooine, securing his freedom from a life of slavery. Betting on the races was a popular pastime with many of the watchers on Tatooine and it was through Qui-Gon Jinn's bet with Watto that Skywalker would win the race that Skywalker was freed.[1]
In the Anoat sector, during the Iron Blockade, the Ivax Syndicate oversaw Podracing and other activities.[3]
Appearances
Edit
Non-canon appearances
Edit
Notes and references
Edit
Ad blocker interference detected!
Wikia is a free-to-use site that makes money from advertising. We have a modified experience for viewers using ad blockers

Wikia is not accessible if you've made further modifications. Remove the custom ad blocker rule(s) and the page will load as expected.