The Praxis Mk. I turbo speeder, more commonly known as the Jedi turbo speeder, was a model of airspeeder used by the Jedi Order in the waning days of the Galactic Republic.
During the Clone Wars, Jedi Master Plo Koon and Padawan Ahsoka Tano used a turbo speeder to travel to the Coruscant underworld in seeking information on Boba Fett from some of the seedier locals that Jango Fett used to frequent.
Appearances
Edit
Notes and references
Edit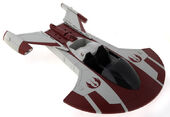 Ad blocker interference detected!
Wikia is a free-to-use site that makes money from advertising. We have a modified experience for viewers using ad blockers

Wikia is not accessible if you've made further modifications. Remove the custom ad blocker rule(s) and the page will load as expected.