"What do we do with them?"
"Our orders are to take no prisoners."
―Two battle droids during the battle on Ord Mantell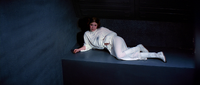 A prisoner was an individual who was captured and held in confinement by a third party. During the Galactic Civil War, Princess Leia Organa was held prisoner by Darth Vader before she was rescued by Luke Skywalker and Han Solo,[1] assigned the designation of "Prisoner 2187."[2]
The Galactic Empire used the prisoners held in the mobile prison Accresker Jail as an expendable fighting force.[3]
Appearances
Edit
Notes and references
Edit