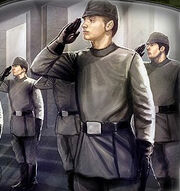 Private was the lowest army rank. The next rank up was Corporal.
Clone trooper privates, referred to as "white jobs" or "meat cans" by clone commandos, had plain white armor, and served as the foot soldiers of the Galactic Republic during the Clone Wars, as well as the stereotype of the clone trooper. While not as creative as their superior officers, the clone trooper privates nevertheless gained a great deal of individuality over the course of the war, serving closely with the Jedi until the execution of Order 66. These very clones later became the feared stormtroopers of the first Galactic Empire, accompanying Darth Vader in the Great Jedi Purge, and serving as guards and soldiers on the Empire's many worlds, as well as the Death Star. Privates were used in many other military organizations such as the Rebel Alliance and the Confederacy of Independent Systems.
Appearances
Edit
External links
Edit
Ad blocker interference detected!
Wikia is a free-to-use site that makes money from advertising. We have a modified experience for viewers using ad blockers

Wikia is not accessible if you've made further modifications. Remove the custom ad blocker rule(s) and the page will load as expected.