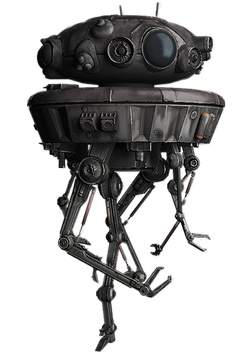 A probe droid, also known as a recon droid or probot, was a type of droid that could be used for deep space exploration and reconnaissance, they are tenacious hunters and searchers. Notable models included the DRK-1 Dark Eye probe droid and the Viper probe droid. They could be equipped with both shields and blasters.
The Sith Lord Darth Maul employed three DRK-1 Dark Eye probe droids to search for the Jedi Qui-Gon Jinn and Obi-Wan Kenobi on the planet Tatooine.[1]
When the Rebel Alliance moved its headquarters from Yavin 4 to the planet Hoth, the Empire sent probe droids all over the galaxy to find the new base. One such droid, a Viper model having arrived on Hoth from its carrier, began to transmit a live feed of what appeared to be a Power generator to the Empire, leading to an attack a short time later. The droid, however, was intercepted by Han Solo prior to the invasion, warning the Alliance and giving them some time to prepare.[2]
Appearances
Edit
Non-canon appearances
Edit
Notes and references
Edit
Ad blocker interference detected!
Wikia is a free-to-use site that makes money from advertising. We have a modified experience for viewers using ad blockers

Wikia is not accessible if you've made further modifications. Remove the custom ad blocker rule(s) and the page will load as expected.