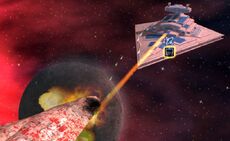 Proton beam cannons were powerful energy weapons used most prominently by the Galactic Empire.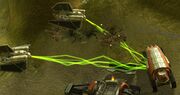 The most famous of these were the planetary proton beam cannons used to make up superlasers such as the ones found on the first and second Death Star.[1] These could completely obliterate a target world.[2]
There also existed smaller composite beam superlasers that were capable of making a planet uninhabitable by destroying its core.[1] An anti-capital ship proton beam cannon was also constructed on the surface of Dubrillion during the height of the Galactic Civil War.[3] Capital ship-scaled cannons were a feature of both the Eclipse-class and Sovereign-class Super Star Destroyer models. These guns could sear entire continents in a moment, but not pulverize an entire planet.[4]
At the Empire's height, a much smaller proton beam cannon was mounted on the modified Imperial-class Star Destroyer, the Accuser.[5] Decades later, Booster Terrik had his private Star Destroyer Errant Venture fitted with a similar weapon said to be based on the Darksaber project.[6] A fighter-scale proton beam cannon was fitted to the Lancet Aerial Artillery vehicles used by the Empire.[7]
Appearances
Edit
Notes and references
Edit
Ad blocker interference detected!
Wikia is a free-to-use site that makes money from advertising. We have a modified experience for viewers using ad blockers

Wikia is not accessible if you've made further modifications. Remove the custom ad blocker rule(s) and the page will load as expected.