Puppet governments
Talk

0
103,544pages on
this wiki
Puppet states of Sith Empire
Political information
Type of government
Head of State

Various native puppet leaders

Head of Government

Various native puppet leaders

Commander-in-chief
De facto leader
Societal information
Capital

Various native capital cities

Official language

Various native languages

State religious body
Historical information
Formed from
Date of establishment

3,681 BBY (as part of the Sith Empire)

Era(s)
Puppet governments were Sith-aligned governments, which offered full political, military and economical support for the Sith Empire during the Great Galactic War. They were installed on the Galactic Republic member worlds to trigger their seccession from the Republic government and ensure their subservience for the Sith war effort for the remainder of the war.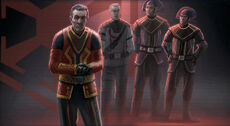 Though, the Sith Empire was well-known for devastating attacks against the planets belonging to the Republic, its leaders and commanders, due to various reasons (strategic position in a campaign, resource wealth, reluctance to long-lasting occupation) sometimes employed more subtle solutions (secret alliances with ruling leaders, deep infiltration of governmental institutions by Imperial agents, access to certain privileges) to expand its territory and sphere of influence. All Sith puppet governments were required to rally their forces and directed them to fight under the Sith Empire banner. In return they were promised protection from brutal reprisals which were a common trait of all Republic worlds occupied by Sith forces.
The puppet governments were obliged to declare war on the Galactic Republic and break off all relations with the former ally. However, their official declarations of war were often postponed to deceive Republic commanders into believing their pro-Republic allegiance. As a result the Sith could pull their enemy into a trap.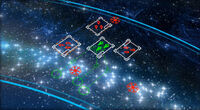 Some Republican governments in the face of inevitable Sith invasion defected to the Sith Empire, knowing that their further alliance with the Galactic Republic, which had no longer chance of winning against the empire in a system/sector, would mean terrible fate imposed on their worlds by Sith occupation authorities. They were ready to limit severely their sovereignty in exchange of a better treatment. However, joining the Sith Empire, who detested ideals of democracy and freedom, de facto rendered them as puppet governments of the Sith Empire. The best example was the Aparo sector, which during the Sith offensive switched sides.
The puppet governments of Belkadan, Ruuria and Sernpidal played a large role in the Tingel Arm campaign, where their military forces were used in an ambush on the Republic fleet and fought besides their Sith superiors, revealing finally their true political stance. Another famous case was Mandalore the Lesser, a gladiator whose ascesion to the position of power over Mandalorian Clans was orchestrated by Imperial agents. Thus they established a puppet leader, who helped them amass Mandalorian forces and make them fight for the Sith Empire.
Known governments
Edit
Appearances
Edit