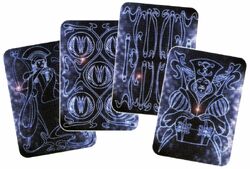 Pure Sabacc was the term used to describe a hand of exactly positive or negative twenty-three in the card game sabacc. When a player achieved Pure Sabacc, he or she received both the hand pot and sabacc pot, and this would generally signify the end of a game. In some variations of the game, Pure Sabacc was bested by the Idiot's Array.[1] The phrase was also slang referring to the perfection of a situation or object.
Han Solo held a Pure Sabacc when he won the Millennium Falcon from Lando Calrissian in the Cloud City Sabacc Tournament.
A related term was Pure Pazaak, which Atton Rand used as a slang term similar to Pure Sabacc.
Appearances
Edit
Notes and references
Edit
Ad blocker interference detected!
Wikia is a free-to-use site that makes money from advertising. We have a modified experience for viewers using ad blockers

Wikia is not accessible if you've made further modifications. Remove the custom ad blocker rule(s) and the page will load as expected.