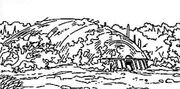 This military base on the planet Pzob was built to temporarily house a number of Imperial stormtroopers. The original plan was for the troopers to be picked up by the enormous warship, the Eye of Palpatine; however, when the ship was sabotaged by Jedi intervention, the stormtroopers became stranded on Pzob. Over the years, most of the soldiers were killed by either skirmishes with the local Gamorrean clans or infighting. The sole survivor was Triv Pothman, who remained in the ruined base until 12 ABY, when the reactivated Eye of Palpatine picked him up.
Appearances
Edit
Ad blocker interference detected!
Wikia is a free-to-use site that makes money from advertising. We have a modified experience for viewers using ad blockers

Wikia is not accessible if you've made further modifications. Remove the custom ad blocker rule(s) and the page will load as expected.