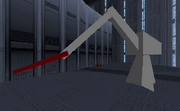 QS100 was a gigantic welding arm used for massive constructions. Kyle Katarn stumbled upon them twice during the Dark Trooper Project.
Behind the scenes
Edit
The QS100 Welding Arm is named after a real-life device programmed by Star Wars: Dark Forces lead programmer Ray Gresko while he worked in the robotics industry.
In the game, the QS is one of the few objects of the game engine wholly composed of 3d polygons.
Appearances
Edit
External links
Edit
Ad blocker interference detected!
Wikia is a free-to-use site that makes money from advertising. We have a modified experience for viewers using ad blockers

Wikia is not accessible if you've made further modifications. Remove the custom ad blocker rule(s) and the page will load as expected.