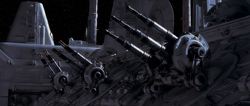 A quad turbolaser cannon was a heavier version of the quad laser cannon and at least one variety was produced by Taim & Bak.
Characteristics
Edit
Quad turbolasers were magnitudes more powerful than the quad laser cannons, which were installed on many lesser warships and freighters.
Weapons of this kind was used aboard a variety of capital ships, like the Lucrehulk-class battleship,[1] the Providence-class carrier/destroyer,[2] the Acclamator-class assault ship,[3] the Victory-class Star Destroyer and the Imperial I-class Star Destroyer.[4] They were also utilized as part of ground artillery by many factions, along with one- or two-barreled turbolaser cannons.[5]
Appearances
Edit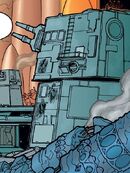 Notes and references
Edit
Ad blocker interference detected!
Wikia is a free-to-use site that makes money from advertising. We have a modified experience for viewers using ad blockers

Wikia is not accessible if you've made further modifications. Remove the custom ad blocker rule(s) and the page will load as expected.