The RGC-16 airspeeder was an airspeeder model in use during the Clone Wars.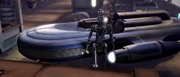 An RGC-16 airspeeder was used by Cassie Cryar and Ione Marcy to escape Nack Movers's apartment after killing him and taking Ahsoka's Lightsaber, which he had bought from Bannamu. During the Assassination attempts on Duchess Satine, Satine fooled the Republic authorities by thinking that she was driving an RGC-16 airspeeder. Cad Bane also used one when taking C-3PO to his Coruscant hideout. and later, his Techno-service droid Todo 360 to toss Threepio and R2-D2 back where they found them.
Appearances
Edit
Ad blocker interference detected!
Wikia is a free-to-use site that makes money from advertising. We have a modified experience for viewers using ad blockers

Wikia is not accessible if you've made further modifications. Remove the custom ad blocker rule(s) and the page will load as expected.