The RPS-6 rocket launcher was manufactured by Merr-Sonn Munitions, Inc. and used by both the Confederacy of Independent Systems and the Galactic Republic during the Clone Wars as a portable guided/unguided anti-vehicle weapon.
Description
Edit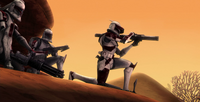 The RPS-6 rocket launcher was produced by Merr-Sonn Munitions, Inc. during the time of the Clone Wars. It fired rockets from a magazine of six. The rocket was capable of destroying vehicles protected by ray shields, but were ineffective against Umbaran mobile heavy cannons.[4]
The RPS-6 was used by the Galactic Republic during the Clone Wars.[5] The Royal Naboo Security Forces on the planet Naboo also used the launcher during that time period. Chrin fired one at a droid patrol.[2]
During the Battle of Umbara, members of the 501st Legion carried the RPS-6 and fired them against Umbaran militia vehicles in a frontal assault against an airbase.[4]
CT-7567 used one to destroy an Armored Assault Tank on Kiros.[6]
Later on in the war, Anakin Skywalker paid Hondo Ohnaka to gun-run a supply of the latest RPS-6s to the rebels on Onderon. They were successfully fired against a quartet of Heavy Missile Platform droid gunships.[7]
Clone troopers carried three during the battle of Scipio. They were used against Hyena-class bombers.[8]
Behind the scenes
Edit
The RPS-6 appears in the Star Wars: The Clone Wars multimedia project.
Appearances
Edit
Notes and references
Edit
External links
Edit
Ad blocker interference detected!
Wikia is a free-to-use site that makes money from advertising. We have a modified experience for viewers using ad blockers

Wikia is not accessible if you've made further modifications. Remove the custom ad blocker rule(s) and the page will load as expected.