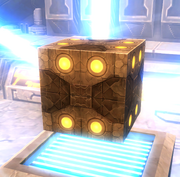 Rakata Energy Cubes were a technology developed by the Infinite Empire and were similar to a Datacron but instead held large quantities of energy. However, only Rakatan technology was able to properly harness the power of an Energy Cube.
Appearances
Edit
Ad blocker interference detected!
Wikia is a free-to-use site that makes money from advertising. We have a modified experience for viewers using ad blockers

Wikia is not accessible if you've made further modifications. Remove the custom ad blocker rule(s) and the page will load as expected.