"You took quite a beating there didn't you, missy? Now which side of the battle was you on? Aww. Not to talkative are you?"
"Take me to Dathomir."
"Now why would anyone want to go there? Nothing there but fog and witches."
"Exactly."
―Ratch and Asajj Ventress, right before she killed him
Ratch was a male Twi'lek scavenger. He was a captain of his GS-100 salvage ship Raider.
Biography
Edit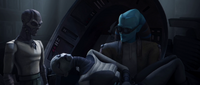 During the Clone Wars, after the Battle of the Sullust system, Ratch and his Weequay crew retrieved an unconscious Asajj Ventress within her damaged Ginivex-class starfighter from the debris. She asked them to take her to Dathomir, and when they wouldn't, they were all killed by her.
Appearances
Edit
Ad blocker interference detected!
Wikia is a free-to-use site that makes money from advertising. We have a modified experience for viewers using ad blockers

Wikia is not accessible if you've made further modifications. Remove the custom ad blocker rule(s) and the page will load as expected.