Ray shield
130,341pages on
this wiki
Talk

0
"Ray shields."
"Wait a minute. How did this happen? We're smarter than this."
"Apparently not."
―Anakin Skywalker and Obi-Wan Kenobi are trapped by ray shields on the Invisible Hand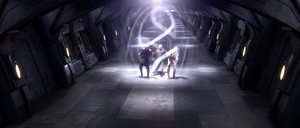 A ray shield was a specialized type of deflector shield employed in both the time of the Galactic Republic and the Galactic Empire. It functioned by deflecting or scattering energy beams.[1]
Jedi Master Obi-Wan Kenobi, Jedi Knight Anakin Skywalker and Supreme Chancellor Sheev Palpatine were once caught in a ray shield trap on the Invisible Hand, set by General Grievous. Kenobi lamented that they were too smart to be caught in such an obvious trap.[2]
The Spire was ray shielded.[3]
The reactor shaft of the Empire's original Death Star superweapon was ray shielded, such that only proton torpedoes would start the chain reaction necessary to destroy it.[4]
Appearances
Edit
Notes and references
Edit