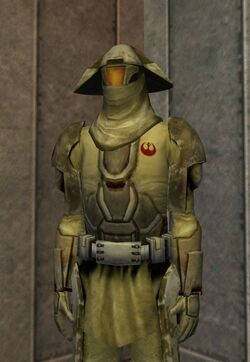 Rebel Desert Troopers were specialized troops of the Alliance to Restore the Republic. One known member was Falen Buir.
In 1 ABY various Desert Troopers guarded a detention facility in the hidden Rebel Alliance base on Corellia. When the base was discovered by an Imperial agent sent by Mara Jade Skywalker, Falen Buir and at least two other Desert Troopers were killed during the agent's infiltration of the detention facility.
Uniforms and equipment
Edit
Desert Troopers wore Rebel battle armor and were armed with blaster weapons.
Ranks and Classes
Edit
They were divided into different classes. They had their weapons and armor customized after what class they were in. The classes were as following: - Sniper - Commando - Heavy Trooper - Engineer
Behind the scenes
Edit
Desert Troopers are Non-Player Characters (NPC's) in the MMORPG Star Wars Galaxies. They were added with the Empire Day live event of 2009.
Appearances
Edit
Ad blocker interference detected!
Wikia is a free-to-use site that makes money from advertising. We have a modified experience for viewers using ad blockers

Wikia is not accessible if you've made further modifications. Remove the custom ad blocker rule(s) and the page will load as expected.