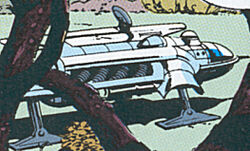 The Rebel scout ship was a ship used by Princess Leia Organa and Luke Skywalker while scouting out locations for a new Rebel Alliance base shortly after the Battle of Yavin. Imperial stormtroopers found the vessel on Jarnollen and destroyed it, though the Rebels were not inside.
Appearances
Edit
Ad blocker interference detected!
Wikia is a free-to-use site that makes money from advertising. We have a modified experience for viewers using ad blockers

Wikia is not accessible if you've made further modifications. Remove the custom ad blocker rule(s) and the page will load as expected.