Star Wars: Rebellion #6: The Ahakista Gambit, Part 1 is the sixth issue in the Star Wars: Rebellion series of comics.
Publisher's summary
Edit
This is the Star Wars story that no fan of the original trilogy can afford to miss—an all-new adventure set in the dangerous underworld of the war between the Empire and the Rebellion!
A lieutenant to one of the most powerful gangsters in the galaxy, Wyl Tarson is a master of lying, cheating, and stealing—and a hero of the Rebel Alliance! For years Wyl has been acquiring valuable information for the Rebellion through his employer Raze's expansive criminal network. That is, until Raze discovers Wyl's second life as a Rebel spy. Now, subjected to a mysterious procedure, Wyl has become a prisoner in his own body, subject to Raze's every whim.
It's an unforgettable first issue where the stakes couldn't be higher for Wyl Tarson—or the Rebel Alliance!
Plot summary
Edit
Appearances
Edit
Characters
Creatures
Droid models
Events
Locations
Organizations and titles
Sentient species
Vehicles and vessels
Weapons and technology
Miscellanea
Collections
Edit
External links
Edit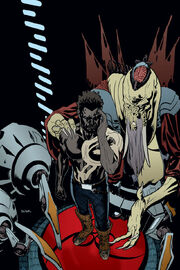 Ad blocker interference detected!
Wikia is a free-to-use site that makes money from advertising. We have a modified experience for viewers using ad blockers

Wikia is not accessible if you've made further modifications. Remove the custom ad blocker rule(s) and the page will load as expected.