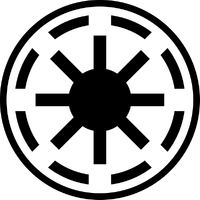 The Republic crest, also referred to as the Republic cog, was the ancient eight-spoked sigil of the Galactic Republic. With the outbreak of the Clone Wars between the Republic and the Confederacy of Independent Systems, the crest came to be featured more prominently than before, appearing on brand new war machines, flags and banners. Eventually, Supreme Chancellor Sheev Palpatine turned the Republic into the First Galactic Empire,[1] and the Republic crest was modified into the Imperial crest.[2]
Appearances
Edit
Notes and references
Edit
Ad blocker interference detected!
Wikia is a free-to-use site that makes money from advertising. We have a modified experience for viewers using ad blockers

Wikia is not accessible if you've made further modifications. Remove the custom ad blocker rule(s) and the page will load as expected.