"Onderon is ours. We will remind everyone, and keep reminding them, until we get it back."
―Steela Gerrera of the Onderon rebels
The Onderonian Civil War, also referred to as the Battle of Onderon, or the war on Onderon,[13] took place for control of the planet Onderon in 22 BBY.[1] The civil war did not conclude until 20 BBY.[5]
At the onset of Clone Wars, Onderon's King Ramsis Dendup refused to side with the Galactic Republic nor the Confederacy of Independent Systems,[7] despite Senator Mina Bonteri's admiration for the Confederacy's Head of State, Count Dooku.[14] Thus, the Confederacy moved in with it's Droid Army, occupied Onderon's capital, Iziz, and replaced Dendup with Sanjay Rash as it's king.[4]
Onderon's Rebellion
Edit
Lux Bonteri: "The only way to reclaim Onderon will be through armed struggle. We lack sufficient hardware and supplies."
Obi-Wan Kenobi: "Onderon is in your king's rule, and at the outbreak of the Clone War, he chose to align it with the Separatists."
Saw Gerrera: "Our true king has been silenced. The one you recognize is a traitor and a Separatist minion. We need your help to survive this."
―The Onderon rebels petition the Jedi High Council for assistance
When the people of Onderon became unhappy with both Rash's regime and the Droid Army's occupation, a group of rebels.[6] which included former Senator Lux Bonteri[15] took refuge in Onderon's jungle. There, they established a camp. Knowing they did not have the supplies or hardware to fight the Droid Army head on, the rebels decided to contact the Jedi Council for aid. Despite most of the Council believing it was primarily a internal affair of Onderon, Jedi Knight Anakin Skywalker was able to convince the Council to allow them to train the Rebels. Jedi Master Mace Windu agreed that the Jedi should at least train the rebels to defend themselves.[4]
Jedi Training
Edit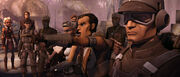 The Jedi Council then sent in an advisory team, consisting of Anakin Skywalker, his apprentice Ahsoka Tano, Obi-Wan Kenobi and the 501st Legion's captain, Rex.[4]
Appearances
Edit
Notes and references
Edit
↑ 2.00 2.01 2.02 2.03 2.04 2.05 2.06 2.07 2.08 2.09 2.10 2.11 2.12 2.13 2.14 Star Wars: The Clone Wars – "Tipping Points"
↑ 4.00 4.01 4.02 4.03 4.04 4.05 4.06 4.07 4.08 4.09 4.10 4.11 4.12 4.13 4.14 4.15 4.16 4.17 4.18 4.19 4.20 4.21 4.22 4.23 Star Wars: The Clone Wars – "A War on Two Fronts"
↑ 6.0 6.1  Onderon rebels in the Databank (backup link)
↑  King Sanjay Rash in the Databank (backup link)
↑  Lux Bonteri in the Databank (backup link)
Ad blocker interference detected!
Wikia is a free-to-use site that makes money from advertising. We have a modified experience for viewers using ad blockers

Wikia is not accessible if you've made further modifications. Remove the custom ad blocker rule(s) and the page will load as expected.