The Resistance navy, also known as the Resistance fleet was the naval branch of the Resistance's military forces during the cold war, and later subsequent war with the First Order. Officer ranks within the navy were Lieutenant, Captain, Major, Commander, Colonel, and Admiral. Ranking members of the Resistance navy could be identified by a badge with blue markings. Aiding the navy was the services of the Starfighter Corps.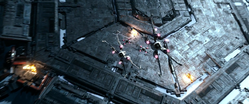 A number of Resistance and former Rebellion naval officers aided in the effort against the First Order due to the lack of action in the Senate.
Assault on Starkiller Base
Edit
After the First Order destroyed the Hosnian system, the Resistance deployed its starfighters to Starkiller Base in order to destroy its thermal oscillator, while Han Solo, Chewbacca and Finn disabled the shields, allowing its destruction while the weapon homed in on D'Qar. After Chewbacca detonated the bombs, the navy, after multiple runs at the base and Poe Dameron's decisive solo attack, managed to destroy the inner workings of the oscillator and return to base.[2]
Capital ship classes
Edit
Heavy cruisers
Edit
Corvettes
Edit
Freighters
Edit
Transports
Edit
Starfighters
Edit
Appearances
Edit
Non-canon appearances
Edit
Notes and references
Edit
↑ The novel Bloodline reveals that Leia Organa formed the Resistance in 28 ABY. Therefore the Resistance navy must have either been formed in or after the year 28 ABY.
↑ 5.0 5.1 BB-8 on the Star Wars App-Enabled Droids by Sphero
↑  Ello Asty in the Databank (backup link)
↑  Resistance Bomber in the Databank (backup link)
Ad blocker interference detected!
Wikia is a free-to-use site that makes money from advertising. We have a modified experience for viewers using ad blockers

Wikia is not accessible if you've made further modifications. Remove the custom ad blocker rule(s) and the page will load as expected.