Star Wars: Revenge of the Sith The Visual Dictionary
127,059pages on
this wiki
Talk

12

Revenge of the Sith: The Visual Dictionary is a guide to Star Wars Episode III: Revenge of the Sith written by James Luceno and published by DK Publishing. It was republished as part of Star Wars: The Complete Visual Dictionary.
Summary
This invaluable Visual Dictionary brings DK's world-acclaimed visual style to the climactic final Star Wars prequel. High-quality annotated photographs and stills from the movie explain every important feature of the characters, creatures, costumes, droids and equipment.
Author James Luceno worked in partnership with Lucasfilm, ILM and DK to research this unique reference book, gaining exclusive access to amazing photographic material and insider information. Key objects have been created specially by expert Consultants from ILM - including the first-ever view beneath General Grievous' head armor.
The result is a unique and fascinating reference work that reveals the characters and creatures of Revenge of the Sith as they appear nowhere else!
Back cover summary
Exciting photography and exclusive text reveal all the Star Wars: Revenge of the Sith characters, creatures, droids and equipment.
SEE
DISCOVER
EXPLORE
Contents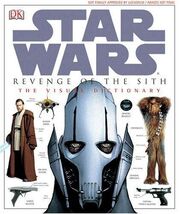 Errors