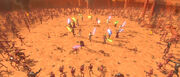 The Ring of Survivors consisted of the last few Jedi and Padmé Naberrie left alive on the sands of the Petranaki arena on Geonosis. Other Jedi who had been fighting elsewhere, such as Plo Koon, Ki-Adi-Mundi and Aayla Secura, were escorted into the ring of survivors. Count Dooku addressed the Ring of Survivors with an offer of surrender, which was refused. Just as the massed battle droids around the Ring prepared for a final assault, Republic LAATs swooped in and plucked the beleaguered Jedi under heavy covering fire from both gunships and clone troopers.
Members of the Ring of Survivors
Edit
Ad blocker interference detected!
Wikia is a free-to-use site that makes money from advertising. We have a modified experience for viewers using ad blockers

Wikia is not accessible if you've made further modifications. Remove the custom ad blocker rule(s) and the page will load as expected.